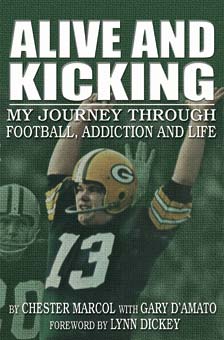 Hardcover - $24.95


Autographed - $35.00




Alive and Kicking
6x9 Hardcover
Approx. 200 pp

Chester Marcol was a Polish immigrant who spoke no English when he discovered football by accident in 1965 as a shy high school student in Imlay City, Michigan. By 1972, he was a household name in Wisconsin after being named National Football League rookie of the year with the Green Bay Packers.
Known for his frizzy hair, thick glasses, and powerful right leg, he led the league in scoring in two of his first three years and was among the top place-kickers in the game. Marcol authored one of the most famous plays in franchise history in 1980, when he caught his own blocked field goal in overtime and ran for a touchdown in a thrilling 12-6 season-opening victory over the Chicago Bears.
In his autobiography—Alive and Kicking—Marcol talks about the hurdles he overcame as a Polish immigrant to become an NFL star, provides a no-holds-barred look at his alcohol and substance abuse that cost him his football career and family, and for the first time publicly, he discusses his suicide attempt in 1986 that continues to affect his health to this day.

Secure Payment by


If you have any difficulties, order by phone! Call Toll Free: 1-800-697-3756